After a 2 year hiatus arising from the infamous Covid-19 bug, the Yorkshire Area championships took place over the weekend of 5-6 March 2022. Following our resounding tale-telling 7th place achievement back in 2020, the band was hoping to continue climbing up the county rankings with its rendition of Heaton's "Contest Music" in Huddersfield Town Hall on Sunday the 6th.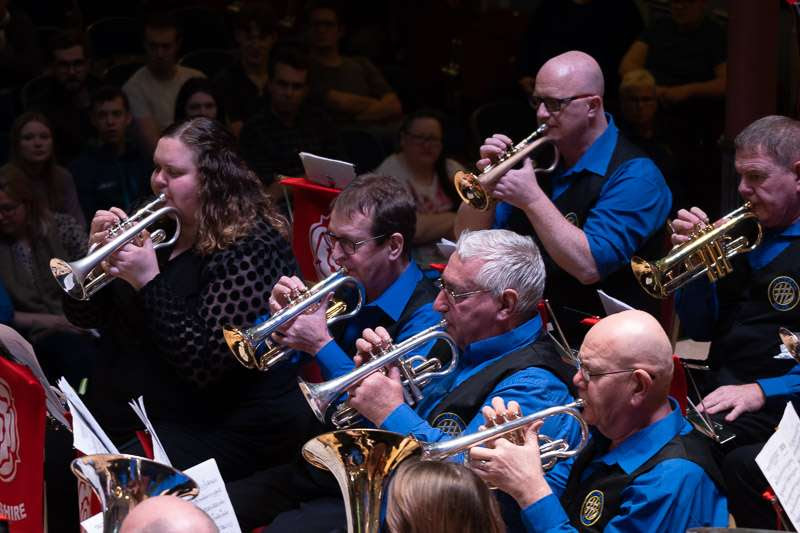 Preparation for the contest was disrupted by late changes to the band's line up, a problem that we shared with other bands following the influence of the pandemic, which made a challenging test piece that little bit harder. Nevertheless, drawn to play 2nd of 12 bands on the day, we took the stage to deliver our version. Disrupted by telephones ringing twice in the audience (one of which drew a less than happy glare from our MD) we thought that we had made a fair job of it and retired to the wings to see how the rest fared. Safe to say, they all had their issues, save for an outstanding performance by the Black Dyke Band, who were drawn to play last. A fitting culmination to the day's graft.
Results awaited, it was pretty much a forgone conclusion who would claim first place, but we were hopeful of a lower middle order placing to secure the band's place at Championship Section level. The real interest was around who would claim the two invitations to the National Championship later in the year. As it turned out, we came home in 12th place, far from our hopes. Dyke retained their crown and will be joined by Hammonds and Rothwell at the Albert Hall in October. Grimethorpe, Frickley and Briggus made up the rest of the top 6. For us, back to the band room to sharpen our game in readiness for the Spring Festival in May, where we hope that "Life Divine" will become a reality for us.